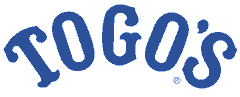 FOR HEALTHY APPETITES


Long before it was fashionable to be "fresh"
or hip to be "health conscious," Togo's was serving
hearty and wholesome sandwiches and salads.
Since day one, we've been using the leanest, premium
meats and the highest quality cheeses. We've been
using dolphin-safe, albacore tuna since the early '70s.
We serve bread that's baked fresh.
In essence, we're never satisfied. We never cut corners.
We never jump on trends. We set them.
That's why for over 25 years, Togo's has been known
as the best. And we're still getting better.
---