About MTC
Philosophy
Client List
Job Openings

Reaching MTC
MTC Corporate
Domestic Sales
Int Distributors
Info Form

More Information
Upload
Download
Literature

What's New
Tom Talks
Press Releases

Systems and Hardware
6832 COM
Rapid COM
Associated Software

Document Management
COED
Module Descriptions
IBM/Xerox Data
Conversion
Demos

Media
Film
CD

Peripherals
Input
Output

Related Info
Industry News
Vendor Partners



Welcome to MTCs Output Document Factory
And welcome to the Age of Information! Its a competitive age, fast and furious. Sometimes frantic. An age of LANs and COM and CD-ROM. Of bitstreams and bandwidths. And computer data overloads to send you reeling down the information superhighway.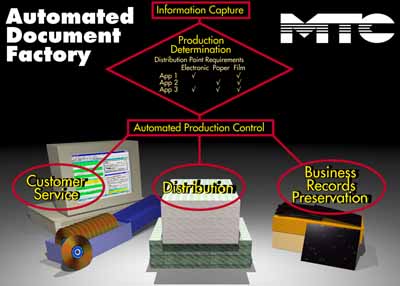 To keep up in this age, youve got to keep your information organized, accessible, protected. Without this precaution, your business is legally and competitively vulnerable. Your customers need prompt, reliable service, your company needs a safe, accessible historical recordand you need flexibility. No one information storage and retrieval system can do it all.
So what do you do when you are destined for information overload? Come to MTC. Our mission is to protect the value and availability of your information regardless of the function it serves. We apply advanced technology to our electronic and computer-output micrographics storage systems to improve human and machine productivitywhile saving you money. And weve been at it for 25 years.