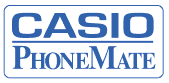 3750

Previous | Next
---
Corporate Info | Products | News | Help | Customer Relations | New Technologies | Home
---
CASIO PHONEMATE'S Model 3750
ANSWERING MACHINE WITH FEATURE PHONE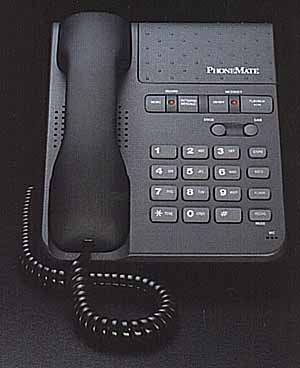 Answering Machine Features
Microcassette Tape
The 3750 uses a single microcassette for the outgoing and incoming messages.
Ring Select
The 3750 is set to answer your calls after 4 rings.
One Touch Controls
One touch plays messages and automatically resets the tape for the next call.
Auto Extension Disconnect
Answer calls from an extension phone and automatically stop the answering machine from recording.
Memo/Conversation Record
Record important phone conversations or leave memos for yourself or other household members.
Play/Rewind
Press PLAY/REWIND to listen to the messages and the machine automatically resets to answer new calls. Press and hold to rewind.
Automatic Erase
If you do not specifically save or erase messages, the 3750 automatically resets to record new messages over the old messages.
New Message Indicator
The light flashes quickly when new messages have been recorded. After messages have been played and saved, the light flashes slowly.
Remote Operation
Use your 2-digit remote access number to retrieve your messages from most touchtone phones.
Remote Turn On
Activate your 3750 from any telephone. Call the machine and let the phone ring approximately 15 times.
Telephone Features
10 Station Autodial
Last Number Redial
Flash
Tone/Pulse Dialing
Wall Mountable
---
Corporate Info | Products | News | Help | Customer Relations | New Technologies | Home
---
Specifications

Weight:
Unit: 1.7 Ibs
Gift Box: 4 Ibs
Master Carton: (6 units) 25.6 Ibs

Dimensions: (HWD)
Unit: 2.6 x 6.7 x 8.5 inches
Gift Box: 10.9 x 13.2 x 3.3 inches
Master Carton: 13.6 x 11.4 x 20.1 inches
Features and specifications subject to change without notice.
---
CASIO PHONEMATE INC.
P.O. Box 2914, Torrance, California 90509-2914
20665 Manhattan Place, Torrance, California 90501
(310) 618-9910 . FAX (310) 212-6316